Romador has been involved in the charcoal manufacturing, processing, and supply industry since 2009.
Romador has successfully positioned itself as the largest supplier of charcoal raw materials to the Southern African metallurgical and smelting sectors.
It has numerous large corporate metallurgical smelting customers, the largest being a NASDAQ listed company, offering the supply, screening, analysis, and blending of charcoal and anthracite products.
Good quality charcoal (high in carbon and low in moisture) is
an indispensable and vital part of the metallurgical manufacturing and smelting process.
With a monthly volume capacity is 9,000 tons of screened charcoal, Romador is the largest supplier who has not only the capacity to guarantee supply but also a consistent quality of charcoal and related products.
Bosveld Charcoal commissioned a high-capacity processing facility which is situated just outside of Witbank (eMalaheni), South Africa.
This processing plant, delivers significant value added services to the raw bulk charcoal it processes which results in significant in- furnace optimisation and efficiency to the metallurgical and smelting sector. The screening plant delivers cost savings and optimisation benefits by:
Removes the need for charcoal inventories on Customers balance sheet;
Removes the need for excessive stock piles of charcoal on Clients premises;

Bosveld Charcoal

stock holding positively enhances the Customers working capital cycles by offering real-time purchasing (consignments) of charcoal volumes as and when required;
Positive impact on the kWh/T production efficiencies, by making available, high quality, low fine, low moisture and "smelter ready" charcoal;

Bosveld Charcoal

manages all administrative, logistics, environmental, creditors and debtors aspects;
Reduction in payroll expenses by resource efficiencies.
Bosveld Charcoal is your perfect source for charcoal, no matter what your end purpose is and in what quantities you require.
With an on-site, independently operated laboratory, Romador can guarantee you a consistent high quality of charcoal and briquettes.
We service the metallurgical and smelting industry with bulk charcoal
Braai (BBQ) market with:

Lump wood charcoal
Briquettes
Firelighters
Wood
Kindling / Tinder

Graphic design and layout services should you want your own
unique design
Packaging in 4/10/12,5/20/25Kg paper or pp bags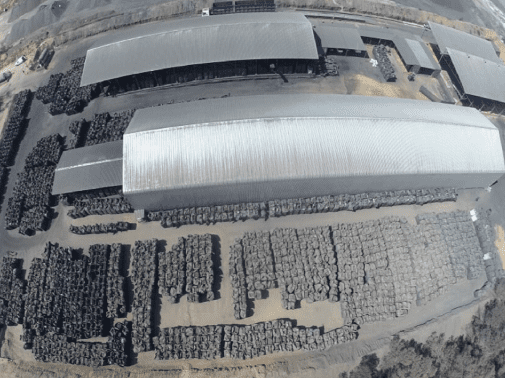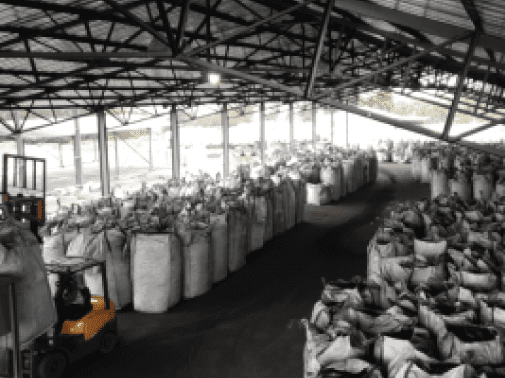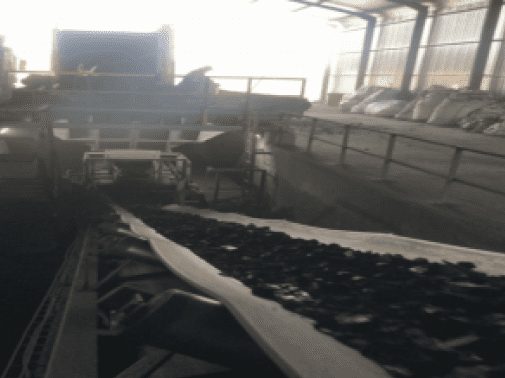 Bosveld Charcoal has available Namibian, Angolan, and South African charcoal.
Total iron as Fe2O3 (dry basis) = 0,06% max
Total calcium as CaO (dry basis) = 0,60% max
Total aluminum as AL2O3 (dry basis) = 0,12% max
Total phosphorous as P2O5 (dry basis) = 0,06% max
Romador has available Namibian, Angolan and South African charcoal.
All charcoal is made from African hardwood timber species, including the following:
Acacia mellifera (Swarthaak)
Acacia reficiens (Rooihaak in North/Western Areas)
Acacia luederitzii (Baster-haak-en-steek in North/Eastern Areas
Acacia tortilis (Krulpeul)
Acacia erubescens (Withaak)
Acacia senegal (Geelhaak)
Acacia kirkii (Vloedvlaktedoring)
Terminalia prunioides (Deurmekaar)
Terminalia sericea (Geelhout)
Dichrostachys cinerea (Sekelbos)
Ash Content (oven dry basis) = 2,0% max
Total delivered moisture (oven dry basis) = 6,0% max
Volatilities (oven dry basis) = 14,0% max
Fixed Carbon (oven dry basis) = 72,0% min to 82,0% max
Charcoal size: 120mm x 20mm
Charcoal Size Distribution over total volume delivered:
• >70mm = 20% min
• >50mm = 60% min
• >7mm = 20% mix
• < 7mm (FINES) = 10% mix
Independent laboratory – MAK Analytical
Each batch is laboratory tested and certified
30 samples are extracted per load received and independently tested and certified
Consistent quality and specification guarantee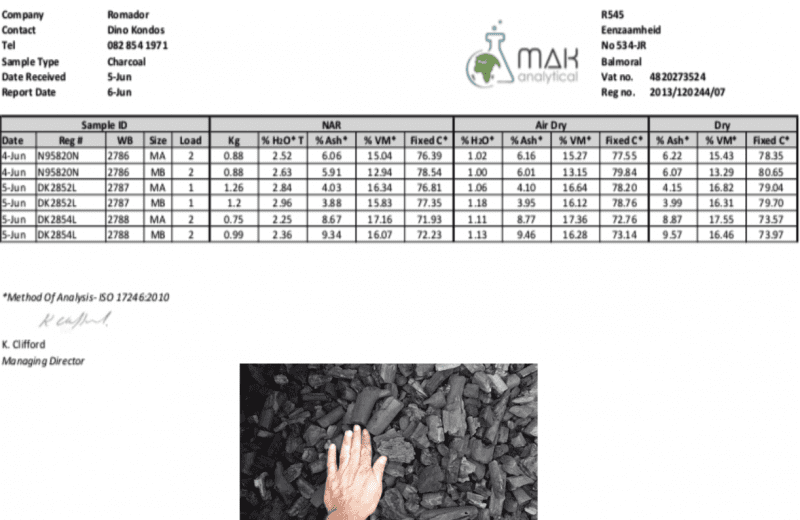 Briquette quality and burn test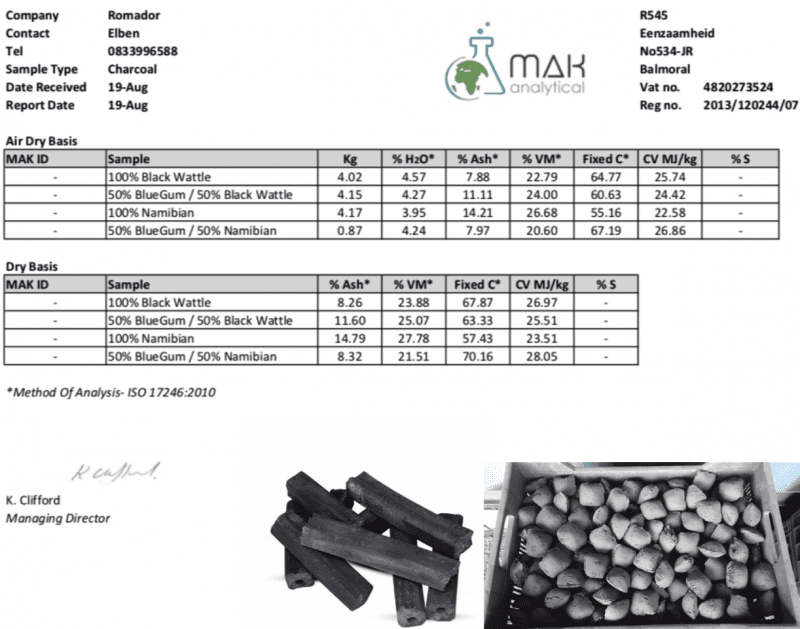 Bosveld Charcoal is the largest supplier of charcoal in South Africa.
Bosveld Charcoal screening and processing plant is on the N4 between Bronkhorstspruit and Witbank.
The site has access via two major highways (N4 and N12) and three arterial roads (R555, R547, and R104)